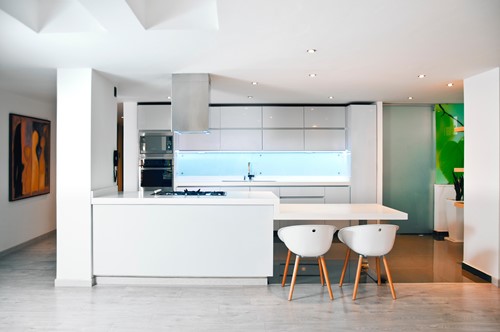 Photo by Victor Rodriguez on Unsplash
It's no secret that people are living longer and maintaining more active lifestyles as they age. While the ultimate goal is to stay agile and able, we all know that at some point, we may not be able to do what we once could. 
Accessible home can help us continue to live comfortably and independently with minimal assistance. So whether you're planning on aging in place or welcoming your aging parent into your home, check out the three primary types of accessible designs along with specific features to look for.
1. Accessible Design
A home with an "accessible design" meets government requirements in your area. These may be established by HUD or the state. But they usually dictate things like:
Number of steps into the home
Whether countertops are wheelchair accessible
Doorway width
Some states may require bathtub handles and lower light switches. Pedestal style sinks would allow a person in a wheelchair to roll up under the sink to reach the water more efficiently. 
2. Adaptable Homes
Very able people understandably may not want to live in an accessible design. That's because, at times, it can make things less convenient for them and may look "clinical" rather than aesthetically-appealing. It all depends on your priorities. For example, often accessible homes sacrifice storage space for knee room under counters and sinks.
Adaptable homes are built in such a way that they can adapt to changing needs. For example, under-counter cabinets may be easily removed if someone in the house starts using a wheelchair.
These homes often have structural features that are accessible by nature, like wider doors and open floor plans. They may also have hideable accessibility features like a detachable grab bar.
3. Universal Design
The idea behind universal is that it meets many kinds of needs and is usable by most people. Because it's not specifically-designed around a particular type of disability, the design may not be ideal for any one person. Universal plans work well for multi-generational or multi-ability level households.
A great example of universal design is moving several outlets two to three feet above the floor so that you don't have to bend over to plug something in. 
A universal home may also be generally accessible but have one suite that is more accessible than the rest of the house. It may have one bathroom that has a walk-in tub, grab bars next to the toilet. You may have a ramp on one of the entrances. 
Choosing an Accessible Home
When selecting an accessible home, it's important to realize there may be overlap in how these terms are used. Inspect the home yourself to see if it meets your needs now and into the future. For more tips for the savvy homebuyer, follow our blog.